Description
the price refers to a package consisting of 10 balls of 100 grams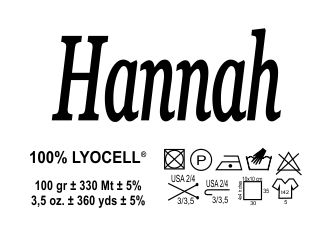 Very shiny 6-ply twisted yarn, many plain colours and, from this year, in many multicolour variants.
Used for many purposes, appreciated by those who like to make shawls or 'fresh' garments.
But what differentiates normal viscose from lyocell?
The fundamental difference is not the origin of the fibre but the method of chemical treatment to which the cellulose is subjected.
Carbon disulphide is usually used to obtain the chemical slurry to produce viscose.
The production process is polluting and the residues are not fully recyclable.
Viscose Lyocell, in addition to having characteristics such as breathability, resistance and moisture absorption, also has a low-pollution process thanks to MNMO – methylmorpholine oxide monohydrate, which ensures the complete recyclability of the residues that, according to in-depth studies, decompose in 8 days.
Patterns and projects made with Hannah yarn on ravelry