Description
A package consists10 balls of 50 grams.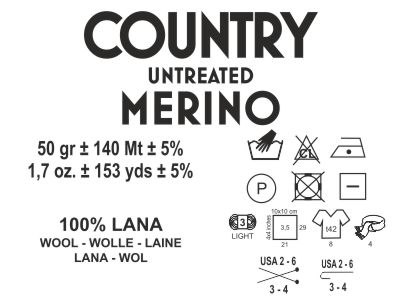 A return to the origins
Pure untreated merino wool yarn, available in 16 timeless colours, perfect for classic women's and men's garments.
The yarn is presented as a 5-ply 2/28 cablé, with a light twist to give the greatest possible softness to the garment.  Once worked, it is almost silky to touch, combined with the natural rusticity of the yarn that has not undergone any chemical treatment (such as Basol or Superwash), deliberately avoided to maintain the natural characteristics of the fibre: softness, lightness, thermal insulation.  The natural feel of the wool is enhanced to give the garment the same sensation as the original fibre, in perfect harmony with the current trend towards authenticity and a return to the origins.
Ideal for creating timeless, long-lasting, warm, structured yet light and airy and fluffy garments.
The ball of yarn has a weight of 50 grams and a length of 140 metres.
The garment produced with this yarn is to be considered hand-washed.