"GROSSO" Plaid by Chiara Chiavacci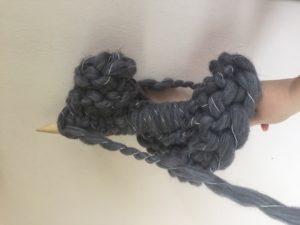 Dimensions:
180 m x 90 cm
Gauge:
3 1/2 sts x 4 rows (10 x 10 cm) in stockinette st
Material:
Yarn:Grosso – Borgo de' Pazzi Firenze®, 100% wool, 200gr +/-23 mt
Knitting Needles 35 mm
Stitches&abbreviations:
Knitting
K: knit
P: purl
Garter stitch (Knit accross all rows)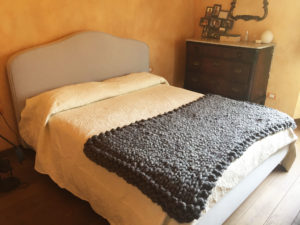 ISTRUCTION
Cast on 25 sts, knit 3 rows
Row 4 (RS): Knit accross
Row 5 (WS): K2 – P until last 2 sts – K2
Repeat row 4-5 until last hank.
As you start last hank, finish the row you're knitting, K3 rows and bind off.
Weave in all ends.
Do you like this yarn for your wool shop ? Contact us : info@borgodepazzi.com
Grosso Plaid by chiara.chiavacci