geis by alice twain with cotton giza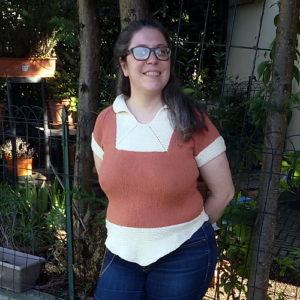 "A geis o geas was a type of taboo in Irish mythology.
The geis acted as a cross between a curse and a gift.
By respecting the geis the hero of the traditional tale acquires particular powers, but if he violates the geis the results can be fatal.
The geis that I imposed to myself was to work the tee with as little purling as possible, and I achieved it to a point by using a few tricks.
Geis is knitted nearly seamlessly from the bottom up.
The garter border are all worked flat and seamed aftewards, while the stockinette sections are mostly worked in the round.
The deep square neckline is filled with a very tall garter border that transforms it into a sort of cross between a keyhole neck and a collared neck.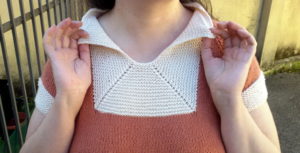 The body of the tee is carefully shaped and the top section sports three different breast shaping options to best adapt it to the wearer's body.
Also the bottom border can be knitted with two different options: the curved edge can be substituted with a straight one. The shirt is knitted in supersoft Giza cotton by Borgo de' Pazzi, a 100% natural untreated cotton.
This yarn is light and cool, but still warm enough for the middle seasons.
This yarn is also available in two multicolored options, Giza plus and Giza extra, both in 100 grams balls.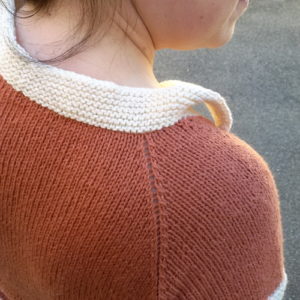 Should you chose to use these ones, I suggest you opt for buying only one color in an amount equal to the sum of the two colors required for the original tee." Alice Twain
Do you want to distribute our yarns ?
Please contact us : info@borgodepazzi.com